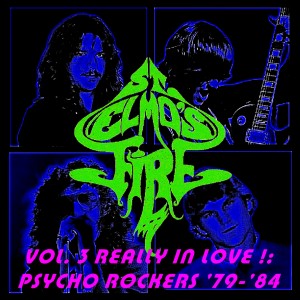 The original St. Elmo's Fire was formed in 1978 by guitarist Jeff Jones and singer Tim Raynor-Allwein. The two had met while performing in "Sail the Sun", a popular show band in Northern California. Jeff was 19 at that time and Tim was 23.  They began writing songs during their time with Sail the Sun even though the group refused to play them. It was then that Tim and Jeff left to start  St. Elmo's Fire.
There are many who wonder where the bands name  came  from. In fact it came from the book "Moby Dick". In the story there is a vivid description of what the  phenomenon of St. Elmos is. It seemed to perfectly describe the vision of what their new band and songs would be like.
In 1979 after many months of auditions bassist Steve Raynor and drummer Alan Kreutzer were picked to join the band. Rehearsal and the recording began that summer but it wasn't until January 1980 that St. Elmo's Fire played their first show in Davis, California..
Davis was a small rural town on the outskirts of Sacramento. It also happens to be the home of the University of California at Davis, known worldwide for its medical and agricultural programs.
The students there soon packed the small clubs and frat houses where SEF played to see this new band with the crazy live show and songs about subjects that other bands would dare not venture into. And that initially was the appeal. It  also caused a large amount of controversy amongst some including many club owners in Sacramento that refused to book the band. Their song "Playin' Music" is all about that.
Some of the songs that became  a lightning rod for this controversy were "Take the Wires Out Of My Head", Love's a Big Word" , "Dudley", "I'm Sorry" ,"Swineherd" " Baby Let Me See Your Underalls" and others. Tim's off the wall lyrics and Jeff's pop sensabilities seemed to create a natural attraction for many in Northern California who saw the band. But it also gave them the "Psycho" edge that became a trademark in the early years.
In 1981 they won a battle of the bands and met a promoter from Canada who booked them on a 6 month tour of Canada. All of this with no records to promote but just on the strength of the songs and the band itself. They returned later that year and began writing a recording again. It was at this time they met Dito Godwin, who became their manager. He would later go on to produce No Doubt, Peter Criss of Kiss, Great White and others.
But what made Elmo special apart from their over the top stage show, was their ability effortlessly to cross over musical genres . You couldn't pin then down. It was a advantage but it also was a curse. Some in the music industry needed to know where the band was coming from and style it was. In Elmo's case it was every style!
They wrote a performed almost anything ,from pop to metal, to rockabilly to country to punk to blues. It didn't matter.
It was in the midst of this that they wrote "Really in Love" a hooky pop rock song that nobody would expect the band to do. That was the genuis of SEF. Create the unexpected. They actually released the song on a self financed 45 vinyl single in 1982. In the last few years copies of this single (if you can even find it) were going for $350 and more on the open market. It is a huge collectors item especially in Europe and Japan.
Word of St. Elmo's Fire spread especially amongst the college students and soon they were headlining in The Bay Area and performed regularly at the Keystone Berkeley.They also performed with NAZARETH, Y&T, NIGHTRANGER, RANDY HANSEN and others. Berkeley students came in droves to see the band.
In late 1982 Tim and Jeff realized that in order to take St. Elmo's Fire to the next level they had to go ot LA.
So in early 1983 the band relocated to Hollywood without Steve and Alan. Several different rythym sections were tried between 1983 and 1985 including drummer Jim Tansley and bassist Tad Dery. In 1985 Tim Raynor-Allwein left the band he helped start and a search was begun for a new singer and new musical direction….
.
XXX Records America will be issuing 5 albums from California psycho rockers St. Elmos Fire.
These ultra rare tracks were all recorded between 1979- and 1984, the beginning years of the band.
Four of these albums are compiled from the St. Elmos Fire archives and contain studio tracks, live performances, demos, and radio interviews . These releases showcase the bands incredible versatility and energy. Also various versions of their 1982 hit single "Really in Love" are including. Many of these`tracks were never heard before! The packaging also has photos, articles and other materials from that time.
Also XXX is releasing a rare concert St. Elmos Fire performed over the radio in 1982.
These are limited editions releases.