VAMP LE STAT -Bloodline review in Glitter2Gutter "..8.5/10 rating!..an underground cult classic.!."
Back in 1991, Vamp Le Stat was formed in Sacramento, CA when Jeff Jones, formerly of St. Elmo's Fire, joined up with Tuttle, Boozer, and Blackburn.  The quartet took an odd approach to their music as they refused to do live performances, instead choosing to hole up and do nothing but write and rehearse in a warehouse they called the "Batcave".  By 1993 they had enough material to complete their first album, Bloodline, which became something of an underground cult classic, as only 2,000 copies were pressed.  I had been looking for a copy for quite some time as I had been a fan of St. Elmo's Fire and had managed to score a pretty crappy CD-R bootleg that sounded like a copy of a copy of a copy.  However, they either sold for a LOT of money on eBay (saw one go for $127 once), or the copies I found were, once again, just copies.
Fast forward to 2010 when Jeff Jones formed his own label, XXX Records, and managed to fully secure the rights to all of the Vamp Le Stat material.   He then remixed, remasterd, and repackaged this limited edition release which contains the original 6 tracks as well as 5 "studio reference mixes", as well as some rare photos of the band.
For those who have never had the chance to hear Vamp Le Stat before, I would describe their sound as "horror hair", I guess, although I don't think that really does this band or this conceptual album justice.  The methodical, chugging opening track, complete with some very "Dracula"-inspired keyboards and a Keifer Sutherland monologue from The Lost Boys, sets the story of Madame Blue, a vampire-turned-stripper whose real name is Suzie.  "Swing Child" has an acoustic guitar thread running throughout it, giving it a feel not all that far removed from some of Jon Bon Jovi's Young Guns II material, but heavier.  "Bitch" is easily the heaviest and angriest tune on the album and features a group shouted chorus and a scorching solo from Jones.
The next two tracks are my favorites on this album, with the big-time ballad "She's Not In Love Anymore" starting off with the gentle roll of thunder, an acoustic guitar, and a piano before kicking in with the drums and another big guitar solo from Jones.  This song has a very catchy chorus to it and is on par with (or above) most anything released on those "Monster Ballad" releases of the past few years.  "Guns 4 Hire" picks things back up full-speed ahead as Blackburn opens the albums's fastest number with a nice machine-gun-fire quick drum intro with Tuttle's snarling vocals and Jones' guitars kicking things up yet another notch.  Album closer, "Chain Around My Heart" is a moody-feeling song, again featuring some almost gothic-sounding piano over some synthesized strings for the first 90 seconds or so, which are then buried by an onslaught of thick guitar chords and pounding drums with Tuttle in full-Vince Neil vocal mode on this track.  Another
solid, solid tune that rounds out (for now…hint, hint) the story of Madame Blue/Suzie.            
The last five tracks here are the "studio reference mixes" of all the previous tracks with the exception of "Bitch".  "
As I have mentioned, lead vocalist Tuttle sounds at times like Vince Neil, at other times like Bret Michaels, and even occasionally like Sebastian Bach, but it is a combination that works very well throughout the album.  Jones is the primary songwriter here, but its his guitar work that is of particular note as it shows more depth than a lot of material put out by Vamp Le Stat's contemporaries, especially since so many bands had decided to catch the grunge wave that was ripping through the nation.  Heavy and melodic at the same time, Jones' talents are on display throughout the album, although his sound is more bluesy/hair metal-styled than the typically classic hard rock sound he delivered with St. Elmo's Fire.  Boozer and Blackburn are a more than competent rhythm section for the band, and the overall sound is very clean and tight and the production is top-notch, especially considering the indie nature of the release.  I truly feel that had this band been able to release this album a couple of years earlier, Vamp Le State would likely have been pounced on by a major label.    
I am very glad I was finally able to score a proper sounding version of this album because it is truly a lost gem.  I do wish this was in a jewel case, as we all know about my complete disdain of digipacks and slip-cases, but the music is what I was after here, and that is what counts.  For those who want to hear what they are missing, check out the videos posted HERE.  Otherwise, just get over to the XXX store and order this great release!
Rating:  Crank this one to a long-awaited 8.5! (See also Rockhard, Keester, St. Elmo's Fire, Spaced)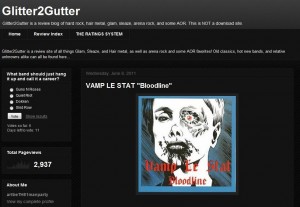 Pages: