Heavy Metal Pages Interview with Jeff Jones
When you are forming St. Elmo's Fire in 1980 everything was new and electrifying heavy metal was born on your eyes everyone could become its co-creator this is why you decided to play just such a more powerful music.
"Yes it was a very exciting time. There were a lot of bands just coming out especially British heavy metal which was what I always liked. And of course there was bands in the seventies like Led Zeppelin, Black Sabbath, Iron Maiden Deep Purple and others that paved the way for what we did .Being a young guitar player especially a young guitar player at that time always more fun to be really loud and play the heaviest riffs and fastest solos you could play. It was like discovering sex for the first time.
,you know? It was that exciting. That's why I included a few demos on the Karthago re releases. Songs like " Don't Drop It" and "Swineherd" which were written and recorded when I was nineteen years old so the fans could hear what I was playing when I was just starting out.
There was also a lot of other types of music in the United States at that time which was popular. Punk was real big and new wave. All of it seemed to come out around the same time but like I said as a guitar player I wanted to play the harder type of music.I was around 18 years old at the time. I just wanted to play and be in front of people. Also at that point I had just started to write songs. Before that I never wrote songs before. I played in cover bands in junior high and high school but I soon realized that if I was going to get anywhere in the music business I would have to write my own material. In fact the first hard rock/metal type song I wrote was "Don't Drop It" Honestly, I think that was the first song I ever wrote period. That's another reason why I included the demo version as a bonus track. I always liked the demo better."
——————————————————
Where did you get the idea for the name St. Elmo's Fire?
"Actually the name came from our original vocalist Tim Allwein who I formed the band with in 1979. He found a reference to St. Elmo's Fire in the book "Moby Dick". It is an electrical field that surrounds ship masts during storms. It's kind of a glowing light that the sailors in the 1700's were very afraid of. So because of that we thought it would be a great name for a band.
—————————————————-
The United States was a specific place because young bands wanted to play more sharply and more modern had to reach for European standards, in other words to the New Wave of British Heavy Metal because of groups like Boston, REO Speedwagon and Journey preferred much more melodic sounds despite the fact that they were considered in your country as metal bands or hard and heavy?
"Those bands here were referred to as "Corporate rock" bands. It was a insult to be called that. It meant that the big rich record labels and radio stations would only support safe and boring music like they wrote. The critics here hated those types of bands when in reality they were quite good. In the late 70's and very early eighties there weren't a lot of American bands playing true heavy metal. That's why if you were a kid or a heavy metal fan in the US you had to get it from the British or other European metal bands because in the United States at that time there was unfortunately just a lot of commercial type of rock. It's like that again in America right now in fact. The music scene here really sucks. And just like years ago the only support for heavy metal now is from Europe and Japan. Although Latin America recently has been great also.
Back in the day heavy metal really started to happen in the San Francisco Bay Area around 1980. Bands like Megadeth, Trauma, Metallica, Slayer, Testament ,Exodus and others started in Northern California and the Bay Area. It was a real good scene there. At that time San Francisco was the place to be because there was lots clubs to play.
We were in Sacramento which was about 80 miles from San Francisco so when St. Elmo's Fire first formed we went down to the Bay Area to play. Places like the Keystone Berkeley. the Stone, the Palms, the Crown and Anchor and the Alpen Glow. All sorts of clubs in the Bay Area that time were supporting the new heavy metal and hard rock. If you went to Los Angeles it was completely different. We learned that the hard way but I don't regret moving to LA. In Southern California it was more of a glam hair metal type band scene .
. That's why you had bands like Poison, Ratt, Warrant ,Guns N Roses,which originally was a punk band back then, Faster Pussycat and others which became popular. I remember when we first went to Los Angeles to play at the Troubadour Metallica was playing with three other bands on a Tuesday night. So back then you could go down and see Metallica for free. They were just starting out in LA as well. It was a really strange time if you want to play heavy music United States. So we looked to Europe to help us out."
————————————————-
Even your debut single "Really in Love" and "Too Bad" especially the second song clearly shows that you were interested in melodic but strictly metal music?
"Yes, those are two completely different types of songs and were in a transition as far as the band was concerned. The original Elmo was more melodic more commercial sounding but it became clear that we wanted to be much more heavy. Especially me who liked writing harder songs. So on one side you had more of a commercial sound with "Really in Love" and "Too Bad" which was the beginning of our harder metal side. We eventually developed that sound into our first album. And it also shows state of the music in the US at that time where to get your songs played on the radio you had to be commercial. The major labels had no room for heavy metal because the radio stations wouldn't play it. But the fans loved it. By the way that single had a huge resurgence few years ago in Japan. I was told a DJ in a club in Tokyo was playing it as a club remix version. The kids going to there wondered who the hell the band was performing "Too Bad" and "Really in Love". I started getting emails from Japan asking do I have any of those singles to sell. I sold a lot on eBay for around $1,000 each from my personal collection. That went on for quite a while so it was cool to know that our music was reaching a whole new generation of fans."
—————————————————-
Sunny California was not perhaps to favorable place for such sounds which is why you decided to the Los Angeles where the metal scene was much stronger?
"We moved to Southern California mainly because the music scene was far bigger than Northern California. Simply there was more places to play, more clubs, more of everything having to do with music. And most importantly all the major record labels were based there so if you wanted to get signed you had there. Where it was easy for the A&R guys could come and easily see the band. San Francisco wasn't quite like that. The labels there were smaller independent record labels. All the big managers were in LA. The only way we thought we could make it was to try to get on a major label. Even though the scene was bigger in Los Angeles I learned that a different style was happening. Hair metal was more popular in Southern California than anywhere else. That's why a lot of the bands signed at that time to major label contracts were mainly hair metal bands. We were different because we played metal.. We packed the clubs on the Sunset Strip every weekend no matter if we were at the Roxy, the Whiskey, the Troubadour, Gazzarri's, The Coconut Teaser or anywhere else. People in LA loved us! We just had a hard time with the record labels because we weren't the flavor of the month. All they wanted was cheesy hair metal."
——————————————————
You already have the status of being a good live band you had many tours and played as support with Nazareth or having perhaps the best period of their career Y&T, so you are expecting probably that some music label or manager will be interested in you.
"Beyond the fact that we weren't playing the type of music the labels were interested in we had some real issues with our manager . We were locked into a bad management deal. The record labels really wanted to have a manager represent the band that had experience and a name.
It was very discouraging for sure but there really wasn't anything we could do. That was one of the reasons that we tried to get attention in Europe because the record labels there really liked our type of music. We decided to prove ourselves in Europe first then come back to the US with success and then get signed here.
—–'——-'''—————————————
You created The Legend of places like The Roxy and the Troubadour you had the feeling that you are creating something that soon will go into the history of metal,or no one saw that way music and fun were the most important?
" No we really didn't think that we were creating something that would be historic. All we were trying to do was get noticed, get some fans and try to make it big as a rock band. It was like being in a hurricane. Everything was fast and furious then. Although it was a lot of fun it was also a lot of work. I think people get the idea that being in a rock band is all about partying and fun and girls. There is that but its also a lot of hard work with touring, writing good songs and trying to improve your band all the time. When St. Elmo's was performng in the clubs in LA we were just one of hundreds or maybe thousands of bands that came from all over the world to try to make it big. Most bands gave up and quit . It wasn't easy to be successful in LA at all! We were fortunate because even though we didn't get to the level of say a Judas Priest, we still managed to make a name for ourselves . People all over the world knew who St. Elmo's Fire was.The proof is in the reissues on Karthago Records after all these years..It was a very competitive atmosphere back in LA because we all want to be famous and get to the next level. The bands were still friends with one another though. For example our bass player at the time Simon Evans was living with Steven Adler of Guns n' Roses and I knew Saul Hudson who you would know now as Slash.
Heres a story I don't think anyone knows. When I first moved to LA I got a job at a place call the Fairfax Theater on Fairfax and Beverly in Hollywood. It was a pretty crappy job but on my breaks I would walk down Fairfax Avenue to a magazine stand to look at the latest rock and guitar magazines. I
made a friendship with the guy that was selling the magazines. I knew him then as Saul Hudson and I would let him come to see movies at the theater for free and he would let me have magazines for free. So we had this trade going on for quite a while. Also I believe at Axl Rose was the video manager at the Tower Records on Sunset Boulevard so we all had different jobs to try to support our music habit."
—————————————————-
In 1984 Trauma drummer Kris Gustofson joined you and vocalist Tim Allwein who was replaced by Zane Lazar. Many of your fans say it was the birth of the best St. Elmos Fire lineup in the history of the band?
"It's really hard for me to say which was the strongest lineup. That's more for the fans to decide because when you're in a band you're so close to everything that you don't have a good perspective with things like that.When Tim was in the band it was a different type of sound. When he to left I decided to make the band's sound harder. Zane was the guy for the job. Of course we also had a lot of bass players in the history of Elmo and they are all good players. It's hard for me to pick one who's better than the other.Kris and I used to make a joke that like in the movie Spinal Tap our bass players would spontaneously combust so we always have to replace them!
Having Kris join the band was a huge plus because he's such a powerful drummer. I mean he's the next thing to John Bonham as far as I'm concerned. When I first heard him play I couldn't believe a drummer could play with that much power yet have so much finesse. He's a great jazz drummer as well. Kris gets that from his father, Gus Gustafson, who was a famous jazz drummer. His dad played with Woody Herman and a lot of other famous jazz orchestras. Most people would know a few songs that Kris's dad played on such as Bobby Darin's "Beyond the Sea" and "Mack the Knife".
————————————————–
I wonder how it happened that none of the numerous US labels we're not interested in your band.
"We that same thing. In 1986 we were becoming famous overseas especially in Europe but in Los Angeles the labels were still ignoring us. But we kept releasing albums in Europe anyways in the hope that eventually the labels in the US would sign us. I remember getting excuses about how we sounded too much like the Scorpions or Whitesnake.Crap like that. It was really difficult but we always had our fans in Europe to depend on.
Like I mentioned before, we were locked into contracts which made it hard for record labels to sign us also . It turned out to be a bad decision to sign with our production company. It made it even harder to sign with any major labels."
—————————————————–
But you were there already quite popular in Europe and in the end the French dream record label released in 1986 your debut album St Elmo's fire?
"We were becoming popular in Europe before we got signed to Dream Records . The "Really in Love" / "Too Bad" single that came out in 1982 helped us quite a bit. It got a lot of attention from rock and metal magazines and radio stations all over Europe. Scott Welch from Kerrang!, one of the biggest rock critics of all time, found our single in 1983 and wrote that we had the sound that made the Beatles great. Not bad right?! Also we had made some demo 4 song cassettes in 1984 for the labels that found their way overseas. Fans started copying them and soon we would got more airplay all over Europe. They were playing our music but we had no label or album at that time.It was just the fans requesting the songs. Because of that that some of the labels in Europe took an interest in us. That's when we signed to Dream Records in 1986 for our debut album."
—————————————————–
When recording for smaller labels you have the feeling that you were below megastars on this specific hierarchy or on the contrary you were mobilized to work even harder to get out of the next level?
"Well the thing was we knew the mega stars because some of them were friends. For example Kris played with Cliff Burton in Trauma before he was in Metallica and I knew Slash back in the Hollywood days so we knew we were just as good. It had something to do with record label politics, who our manager and being at the right place at the right time…and a little bit of luck as well.
But it did definitely made us work harder no doubt about it. Every time I wrote a song or we recorded in the studio we had to be the best we could be. The biggest difference was really the money. What I mean is if you are on a major label you had hundreds of thousands of dollars to work with and a lot of time in the studio to get things exact. On the smaller labels you had to be much better rehearsed because you don't have much money to spend toin the studio. We had to be smart and prepared. No bullshit.. I think we recorded the "Powerdrive" album in 4 days and mixed it in 3 days and it was done. "Desperate Years" was the same way. Bands on major labels spent months in the studio. That gives you some idea what we were up against."
——————————————————
However you probably can't compare here the issue of promotion because the money on the disposal of bigger bands for this purpose was incomparably higher so the more known they were the more money they spend on it and you have not had a chance for this?
"That's very true when you're on a small label the money is very limited. The labels that we had in Europe had to be careful how they spent it. Their promotion of St. Elmo's Fire was nothing like a major label could have done. So the fact that we became as popular as we did was amazing and purely because of our fans and the songs themselves. There was no real money put towards promoting us. We owe it to our fans who told their friends and radio stations to play our stuff. It was really a grass roots kind of thing and that's what made it all happen."
—————————————————–''–
The second album "Warning From the Sky" was already released on the larger German company Bellaphon which probably resulted in more popularity of the band also because of presented an MTV Video of hit number "Caught in the Heartbreak"?
" I'm not really sure that it helped that much being on Bellaphon. Even though they were a bigger company they didn't promote the album and once again it was up to us to try to sell it. Doing the video for "Caught in the Heartbreak" did help us though. We got pretty good airplay on MTV with that and on the Sky channel as well. The video was a lot of fun to do. I remember we filmed it over the course of a couple nights on Santa Monica Blvd in a Hollywood movie soundstage. I thought it turned out pretty good.
—————————————————–
However I get the impression that your real success still wasn't coming that's why you made it through the changes in the line up and sign with another label Black Dragon from France?
"That's true. I was getting pretty frustrated but shortly after "Warning From the Sky" we were finally able to get out of our management and production contract That allowed us to be on another label. It was kind of a fluke that we ended up on Black Dragon. I was in a record store on Melrose Boulevard in Hollywood around 1989 and ran across a band which was on Black Dragon. I contacted them and after a few conversations I decided to sign with them. That's how the "Powerdrive" album came to be. It was a cool to record and write. I think it sounded so good because it was a new beginning for us."
—————————————————–
It was probably a really good haven for American bands at that time but many musicians and spoken very negatively about the activities of Black Dragon I assume that if you released two albums with them and collaborated for several years in your case it was different?
The thing about Black Dragon was that their heart was in the right place but they just didn't have the money to promote and distribute the albums correctly. They had the passion just not the financing to get the albums out to the public. They were just a very small label. But they did have some good artists on there
I believe that JY Young the guitar player from Styx had an album on Black Dragon so they had some notoriety here in the United States. Chastain and Candlemass was on Black Dragon as well."
———————–'————————-
Your third album "Powerdrive" was a big success in Europe you also toured a lot in the US but you aren't able to find a publisher in the United States which probably made it difficult for your American fans to get the cds?
That's very true and
I think "Powerdrive" still holds up really well after all these years. We recorded it in a studio in the Hollywood Hills of LA on Wonderland Avenue. It was located inside this house that seemed to me like to be like a castle. Our engineer told me about this place. It turned out that Chick Corea used the studio a lot. Trevor Rabin used it to do demos for the Yes albums there as well.
As far as the lineup change was concerned Simon wanted to go home to Switzerland and we did some auditions and hired Aaron Smith shortly after that.He only lasted a couple of months-
As far as getting music to our fans in America goes It was odd becoming known in Europe but in our own country we had no product in the stores unless they imported it
We ended up duplicating cassettes of "Powerdrive" and selling them at the concerts.
It was the only way we coukd do it since we had no American distribution. By the way those are real collector items now if you can find one.
Once again it was the fans in Europe that made that album a success.We received a lot of airplay and great reviews in the press. I think we were a top 10 metal album on the radio in Spain. Italy and Germany."
—————————————————-
The nineties probably weren't the best times for traditional heavy metal ,in addition you've recorded quite uneven, not as good as the previous ones, " Desperate Years"- is that why you've disbanded after the last concert of its promo tour?
"I was just getting burned out. Maybe the entire band was as well. You have to remember that I formed St Elmo's Fire back in 1979 and have been touring, writing, recording and producing for that entire time. By 1992 I was just getting tired. Besides I was going through a divorce and I felt like I needed a break from it all. Our last gig with that lineup was at the Herbie Fletcher surfing festival in Cabo San Lucas Mexico.. We played with Armored Saint, Alice in Chains and some other bands down there.
But getting back to the "Desperate Years " album I agree that in some ways it was a uneven record but there were some really good songs on it as well.
Especially "Chain Around my Heart" and "Hot Time." We had recorded 8 songs and thought it would be enough but it turned out Black Dragon wanted more songs on the album . I added a couple more tracks that we had recorded previously in Los Angeles at EMI studios. Those were "Part of my Life" "Breaking Out" and "This Time."
That studio was basically used for demos for Capital Records and EMI recording artists. it was basically a very small room and nothing else. I had a friend that worked there and told us that there was an 8-track recorder that the Beatles used when it was at Abbey Road Studios which is part of EMI. When Abbey Road updated their studio to 24 track they got rid of the 8 track recorder and sent it to the EMI studios in Los Angeles.
I thought it would be cool to record on the same recorder that the Beatles used to do their albums. The only problem was there's was no room to record the drums and guitars so we had to get creative. On a Saturday morning we went to EMI and told the recording engineer what we wanted to do. He thought we were crazy but went along with it because he loved the band so much .We broke into the
label presidents office and moved his desk and everything in his office against the wall and set the drums up there
It made a perfect drum room. Then I put my Marshall stacks into his private bathroom and shut the door to record the guitar parts. We had to do it kind of quick because we didn't know if the security people we come in and find out what we did. But we finished the songs. I never told anyone that story before!"
———————————————————-
However you probably didn't say goodbye in anger if 3 years ago you reactivated the band with Gustafson?
" Kris and I remained really good friends through all these years even though we were in different projects after Elmo. We put together a band called "Dyer Maker" and that was just to get out and play a little bit. But it became so popular we actually became the house band at Sammy Hagar's Cabo Wabo Club at Lake Tahoe for a few years."
—————————————————
You started with concerts but supposedly in the past year you started work on the next album of St. Elmo's Fire with the participation of singer Mike Palombi?
Yes that's right. Kris and I had been discussing recording a new album for a couple years. I saw that our songs we're still being played and old Elmo albums were selling on eBay. I also discovered that a company in Italy was bootlegging our albums. I figured if we're still in demand why not record a new album. I think the fans would really like to hear something new. So I began writing the new songs. It's amazing how quick they came together. Within 2 months I had about 20 songs. Of course for the album we will probably only record between 10 and 12 songs .
But who knows"
——————-'————————–
How did Mike get into the band? Do you already have the rest of the band-bassist ,maybe a second guitarist or are you still looking?
"I've known Mike for years. We were in cover bands in Sacramento when we were kids. Mike is a phenomenal singer
His range and power is really amazing. in fact he was going to be the original singer of Night Ranger when they put the band together in the 1980s but it didn't work out. He just plain kicks ass.
As far as bassists are concerned we're still auditioning. And just like in the old days we'll just have one guitar. Maybe a second guitar for tours but in the studio It'll just be me.
______________________________
Do you already know something about even an approximate release date of this album?
We're really hoping we can release the album later this year. But this time we're going to do it a little differently by financing some of the album through "Pledgemusic " a Kickstarter type organization. We want to get the fans involved in the making of the album. If they help us they'll get digital downloads of the new album, signed Cds, exclusive videos demos and remixes. We are offering fans an album credit and to watch us in the studio while recording. The band will be also signed equipment that we used to record the new album such as drumsticks, drum heads, distortion and wahwah pedals and other stuff. Maybe even guitar and drum lessons from Kris and me via Skype.
Megadeth, Rob Zombie, Candlebox and other bands are now doing it this way.. It's really the way of the future getting fans involved in the whole project from beginning to end. Then when we're done Pure Steel will release it worldwide."
________________________________
For now the re-editions by Karthago Records of your four albums gets to the shops.It is undoubtedly a big sensation for your fans and collectors because we get not only some of these Publications in compact disc form but a lot of bonuses demos, alternative versions, etc?
"I have to say that Karthago/ Pure Steel Records did an amazing job with the re- issues They're really beautiful and they sound better than they ever did. In fact the first St. Elmo's Fire album was never released on CD before just vinyl. And the packaging it is really extensive with 12 page booklets, full color original covers ,lyrics sheets, unreleased photos and stuff that was never on the original albums. It's part of their "Heavy Metal Classics" series. And what makes it better is that they're all individually numbered. Only 500 copies of each release so they are extremely limited and include a letter of authenticity with a hologram to make sure you know you're getting the real thing. And also each album has bonus tracks,demos and some alternate versions with the original singer Tim Allwein.
You know over the years we've had several labels want to release the Elmo albums again but I always refused because it just didn't feel right. But after talking with Stefan and Andreas at Pure Steel I agreed to have them do it. They both told me that they have been big fans since we first began and for them it was a labor of love. I want to thank them and everyone at Karthago and Pure Steel!"
——————————————————–
It's probably great satisfaction for you to see that after so many years since the premiere these albums are still being sought,people want to buy them, because it's also clear confirmation that they stood the test of time?
"Oh yeah it feels real good. It's good to know that there's a whole new generation of metalheads that are interested in the band. Probably some that weren't even born when we were recording these albums. And the thing also is that St. Elmo's Fire never followed a trend.We just wanted to put out really good albums. Maybe that's why our music has stood the test of time.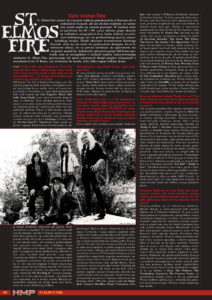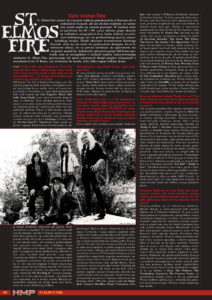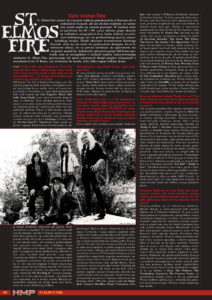 Pages: