JEFF JONES- Rockhard '86-'96 CD review in Metal Excess "good collection of raw Sunset Stripped rock!.."
Jeff Jones is a songwriter/guitarist/producer that has been in a number bands over the years. He was a founding member of St. Elmo's Fire (formed in 1978 in California) and played in the glam band Vamp Le Stat in the early '90s. He also has worked a solo artist and has started up XXX Records America in order to reissue his previous works and to release new material as well. This album is a compilation that spotlights his work in St. Elmo's Fire, Vamp Le Stat and solo material.
I'll be honest with you, I am not familiar with Jeff Jones, St. Elmo's Fire or Vamp Le Stat. In fact, I'd never heard of any of them so I wasn't sure what to expect when I popped this disc in. I really didn't know where this guy got off issuing a compilation when I'd never heard of him! Truth be told, I'm happy to have this disc in my collection. This is an album that takes you back to the glory days of the Sunset Strip! The album is chock full of enough glam and hair to make you wonder just why none of these bands caught a major break. I could understand Vamp Le Stat not making it in the early '90s but it is the St. Elmo's Fire material is strong enough that it should've built up a buzz for the band in the '80s.
Hair metal junkies will definitely get their fix on this one. This isn't polished pop-metal, it's no frills hair METAL. RockHard is a good collection of raw Sunset Stripped rock 'n' roll and I'm interested in hearing the rest of XXX's reissues. So yes, Jeff Jones has some nerve… and I'm glad he does!
Highlights: "Gonna Get Wild", "Madame Blue", "Caught In The Heartbreak", "Powerdrive", "Hot n' Love", "Bitch", "Chain Around My Heart"
(see also Spaced Vamp Le Stat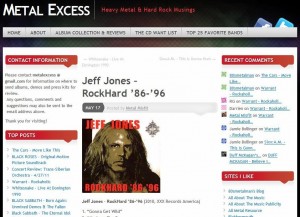 Pages: