JEFF JONES Rockhard -'86-'96 review in Metal Integral "..17/20 rating… excellent..!"
Jeff JONES is the founding guitarist of the group ST ELMO'S FIRE , American group that had released four albums!
St Elmo's Fire in 1986 (on DREAM RECORDS/CBS the French label), Warning From The Sky in 1988 (on BELLAPHON in Germany), Powerdrive in 1990 (on BLACK DRAGON/BMG / France) and Desperate Yearsi n 1992 (BLACK DRAGON).
And also we  needto add the very rare first  single of 1982 ( Really In Love / Too Bad).
… in 1993, Jeff JONES joined the US group VAMP LE STAT that released one of the rarities of glam rock in  1993,Bloodline.
Then Jeff JONES leaves VAMP LE STAT to realize an album solo ,Ride that wet out in 1995.
This time, Jeff appears on some albums as a " guest ", and in 2010 it creates the label XXX RECORDS that will release all the albums of ST ELMO'S FIRE and of VAMP LE STAT as well as his album solo and its unpublished titles.n
A reformation of ST ELMO'S FIRE is in the works and an announced album for the at the end of 2011!
XXX RECORDS will equally produce American groups of Hard Rock /Heavy 80's!
This compilation  isvery well are presented in a digipack , and in limited editions!
This compilation contains eight titles of ST ELMO'S FIRE, three of VAMP LE STAT , one of Jeff JONES solo and an unpublished Breakin'Out demo version, excellent to "the German one" ).  (see also Space, Keester)
Style: Hard Rock /Heavy Metal
Artistic Party: 3,5/5
Interests for the Fans of 80's Heavy Metal: 5/5
Interests for the Fans of traditional Metal usually: 3,5/5
RASKAL The French Warrior: 17/20
RASKAL THE Objective: 17/20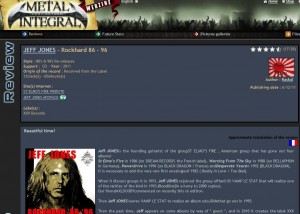 Pages: