JEFF JONES- Rockhard- Metal Observer review ". .7.5/10 ..fresh and exciting ..very well executed.."
There was definitely a level of charm to the softer side of the 80s as heard in the later workings of bands such as DOKKEN, TYGERS OF PAN TANG, MOTLEY CRUE and others that are often seen as being on the borderline where Hard Rock ends and Heavy Metal begins. In some respects, the confusion of the terms between many prominent disc jockeys and MTV personalities is understandable, though a trained ear can easily hear the nuances that makes the lighter side of the NWOBHM distinct from overt Rock influenced acts like CINDERELLA and BON JOVI. Such is the case with a somewhat more obscure representative of all things sleazy and big haired heard on JEFF JONES' release of a compilation of works dating from 1986-89.
While the sounds heard on "RockHard" are quite familiar for anyone who got a taste of the easy grooving, bluesy goodness with a crunchy edge that came out of RATT and KROKUS, they are very well executed and come off as quite fresh and inviting. The only thing at variance amongst the tight and together presentation is the vocal job, which suggests multiple lead singers from different eras, one in particular being high soaring and clean, the other meaner and more raspy. Otherwise, every drum beat is steady and enlarged with enough studio reverb to pass for an impressive live venue minus the audience, the bass is highly audible and largely an exercise in rock solid tightness rather than fancy showmanship, and the guitars are raucous yet restrained enough to walk a tight rope between Mick Mars and George Lynch.
From start to finish the song selection is planned out quite well, giving a good variety of catchy fanfares, attitude laced L.A. bluesy goodness, and somber fits of nostalgic musicality that could have rivaled LEATHERWOLF'S "Street Ready" had it garnered similar attention. "Into The Night" and "Warning From The Sky" are the obvious picks for the Metal enthusiast as they listen like perfect emulations of the galloping, bouncy riff work and semi-operatic vocal work of the early 80s British and German scenes. However, when hearing "Chain Around My Heart" and most of the material on the first half of the album, the influence is much more California oriented, sometimes resembling WASP, others L.A. Guns. It's a very interesting dichotomy that all but renders the compilation into a sort of "VA comp" category, fed further by the contrast in vocals on different songs.
It's definitely a pity that Jeff and his various projects didn't get the due credit for solid songwriting and musicianship that they deserved, especially considering all the drivel that came out of the L.A. scene during the latter half of the 80s. Anybody with an ear for an archaic approach to music that was out of fashion until only a few years ago is sure to enjoy this, though it doesn't quite nail the formula as well as some of the better known names, particularly that of RATT who pretty well perfected this style. But 80s Metal is a lot like good friends; the more, the merrier.
(Online June 7, 2011) see also Spaced, Keester, Vamp Le Stat, St. Elmo's Fire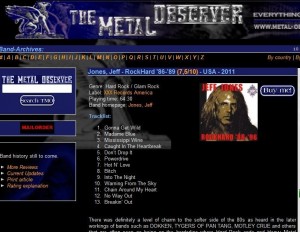 Jonathan Smith
Pages: