Keester CD review in Metal Observer "..an`excellent marriage of 80's glam metal and 90's punk..a must buy!…"
After their previous Glam Metal band, VAMP LE STAT, members Bret "Flash" Blackburn (drums) and Jeff Jones (guitar) decided to try a new angle by forming KEESTER. The band sounds a heck of a lot like VAMP LE STAT, except Blackburn and Jones have thrown in a bunch of Pop-Punk elements, immediately making the album much more accessible than VAMP LE STAT's temperamental "Bloodline." For the most part, KEESTER is a better, more fun band than its predecessor,
…most of the songs on KEESTER's debut are upbeat and fun. The sunny Pop-Punk tracks lend an aura of levity to KEESTER that was more or less absent from VAMP LE STAT's debut. Stuff like "Let's Get High" and "I Wanna Be Somebody" represent an excellent marriage of '80s Glam Metal and '90s Punk, presenting simplified '80s riffs with catchy shout-long choruses. … a must-buy for sure.
(see also Rockhard, Jeff Jones, Spaced, St. Elmo's Fire)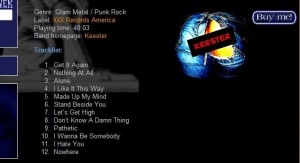 Pages: