KEESTER CD review in Powermetal Webzine "… pop punk feel good songs with distinctive memorable riffs!…"
The band's name Keester, an American slang term for "ass," and is  the band ofVAMP LE STAT-musicians Bret "Flash" Blackburn , and Jeff Jones on guitar,
But what makes the typical keester sound, anyway? On a total of twelve tracks of their self-titled debut work are the typical feel-good songs, coupled with distinctive, memorable riffs and a neat portion college pop-punk that really catches your ear.
Usually in the mid-tempo side, Brett sings 'Get It Again', 'Nothing At All' and the hard rock-heavy "I Like It This Way , and with' Stand Beside You ' a soft-punk number that takes control. Then the album speeds up a little with songs like  'Let's Get High' , which would be perfect on the soundtrack of any college-teen-movie !.
But at least here you notice the structure of the songs: Quiet verses with  catchy choruses before the verses gain the upper hand again after that. This pattern runs through the entire debut disc.
.
Playing tips: Get It Again, Lets Get High
See also Rockhard, Jeff Jones, Spaced, St. Elmo's Fire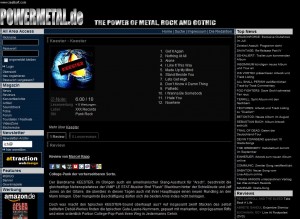 Pages: