Vamp Le Stat news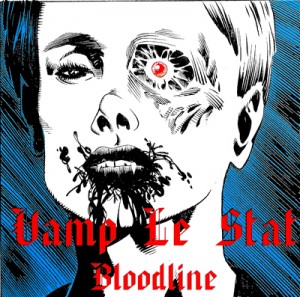 BLOODLINE: "you never grow old..and you never die!"
XXX RECORDS AMERICA is proud to present the re-issue of VAMP LE STAT's legendary 1993 release of "Bloodline:Rites of Passage"
There have been other reissues before of this album but never like this.!
In this 2011 limited edition collector's package you not only get the original Bloodline remastered and sounding better than ever, but the original reference studio tracks of the songs the band used before the album was completed. It gives the VLS fan a new insight into the songs and the band itself.
Also it comes in a 4 panel ecopak with lots of cool previously unseen photos of Vamp le Stat between 1992 and 1994.!!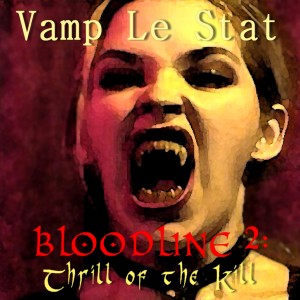 <
VLS "BLOODLINe 2 :THRILL OF THE KILL" OUT NOW!
Yes that's right. It's true. The follow up to "Bloodline :Rites of Passage" has been released on XXX RECORDS AMERICA.
Vamp Le Stat recorded it in 1994, a year after the first Bloodline album, but was shelved after the departure of guitarist/ songwriter Jeff Jones.
"Bloodline 2 : Thrill of the Kill" (B2:TOTK) is now ready to take its rightful place alongside the original. The tapes for the album have been sitting in a garage in California for over 15 years and have finally been rediscovered!
It continues the story of the incredibly seductive Suzie (Madame Blue) who just happens to be a stripper with a taste for blood!
B2:TOTK comes in a limited edition 4 panel ecopak packaging with many photos of the band included.
MORE VAMP LE STAT NEWS: "LIVE 1994" ALBUM RELEASED!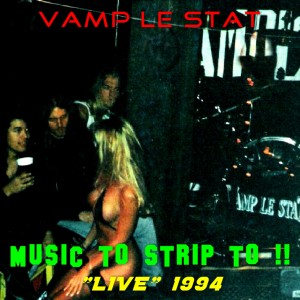 Put yourself in the front row of one rocks best live bands.
Unless you lived in California in the early '90's you missed out on what` people there knew for sure, Vamp looked cool, played the coolest songs, had the coolest show, they were just…COOL!
Here's your chance to hear what those fans experienced every time Vamp rolled into town.
This concert, taped in 1994 was unique because they played almost all new material, but their fans couldn't get enough. The good news was that the show was hotter than hell, the bad news was the band broke up right afterwards when Jeff and Brian left!
Well something like that!
This 7 track album comes in a limited edition package with photos of live VLS included!
MORE VAMP LE STAT VIDEOS RELEASED SOON
XXX RECORDS AMERICA will be posting several rediscovered VLS videos from their club performances in 1993 and 1994!
Including shows opening for Quiet Riot and Stephen Pearcy of Ratt,
They contain songs from Bloodline, Bloodline 2 and their live album plus footage of Zakk Wylde playing with Vamp Le Stat.
Vamp was one of Zakk's favorites and they opened for Pride and Glory whenever they were in Northern California.
Please check out the "VIDEOS" link to give 'em a look. XXX will be posting more live Vamp le Stat videos every so often so keep checking back
Pages: