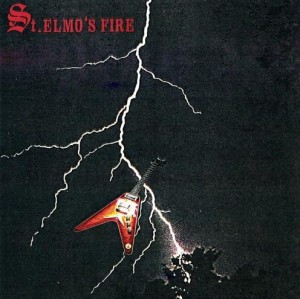 Prior to the departure of vocalist Tim Raynor-Allwein in 1985, bassist Simon Evans and drummer Kris Gustofson joined St. Elmo's Fire. Evans, from Switzerland, was a student at Guitar Institute of Technology (GIT) in Hollywood, and Gustofson had just moved to LA after being in Shrapnel Records recording act "Trauma" who's previous members included Cliff Burton
It was during this transition that SEF became more of a melodic heavy metal band and focused on more commercial sounding metal songs.
Jeff Jones took over the entire songwriting duties when Raynor-Allwein left in late 1985. Tracks like "Into the Night" and "Breaking Out" were written to begin a new musical chapter for SEF. In early 1986 vocalist Zane Lazar became Elmo's new singer and went into the studio to rerecorded vocal tracks (previously sung by Tim), for what would become SEF's first album "St. Elmo's Fire" released thru Dream/CBS Records in Europe later that year.
That album became a hit with both the fans and critics worldwide because it  sounded nothing like what bands from Hollywood were sounding like at the time. LA metal bands then had a decidedly pop metal (almost glam) sonic quality to them. Elmo on the other hand was more old school blues metal. Rougher and not so pretty. They had the blonde hair but not the blonde image!. It was a `throwback to Elmos earlier theory of going against the grain.
They continued to gig in Southern California while Jones was writing material for what would become their second album,"Warning From The Sky"   That album was released in 1988 on Bellaphon Records in Germany. But shortly after "Warning came out, St. Elmo's Fire had come to a uncomfortable and aggravating situation. They were becoming increasingly aware that they were beginning to be famous all over the world but were just another Sunset Strip club band back home. Playing big name Hollywood  clubs like the Whisky-a-go-go ,The Roxy Theatre, The Troubadour and others wasn't cutting it anymore. The strain took its toll and they released their management.
In 1989 Jones begun writing songs for "Powerdrive" and they went into the studio that year. Simon Evans left the band and was replaced by bassist Aaron Smith. The band needed to get out of LA  so they embarked on their first tour in 1990. During that tour "Powerdrive" was released on Black Dragon Records/BMG in France and within several months became a huge hit amongst the metal fans in Europe. It became number one in Spain, Italy and Portugal, while climbing up the charts in most countries throughout Europe. The press loved the album especially radio stations who played it relentlessly for most of 1990. SEF were  a big deal overseas but once again they were just slagging it out in their home country. It was becoming harder and harder on the band. But they continued to tour while Jones wrote material for what would become their final album of the 90's, "Desperate Years" (again on Black Dragon.). Bassist Rusty Aven replaced Aaron Smith and again the band took off on tour And that title says it all. Like "Powerdrive"  before it, "Desperate Years" gave their fans some of what they wanted from Elmo but unlike "Powerdrive"it lacked a musical focus. Before their final tour in 1991, drummer Kris Gustofson left the band .The pressure of their up and down career and  pure exhaustion finally forced guitarist Jeff Jones to disband St. Elmo's Fire in 1992 just a month prior to Desperate Years release..