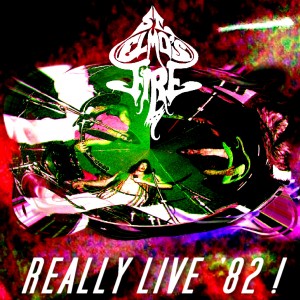 $12.99 with free shipping
Buy Now »
ST. Elmo's Fire : Really.. Live '82!
The complete recorded show of St. Elmo's Fire in 1982 and broadcast live over the radio in Northern California The band actually played in a recording studio in Sacramento surrounded by as many fans as the studio would allow. A live remote feed was taken from the studio as the band played and was broadcast on the local FM station.
They played several new songs that had never been heard before..
A truly electric performance!
CD Tracklisting
Label: XXX Records
Artist: St. Elmo's Fire
Catalog No.: XXX011
Title: Really Live ! '82
Tracks:
1. Don't Drop It
( Jeff Jones / Tim Raynor-Allwein )
2. Criminal
( Jeff Jones / Tim Raynor- Allwein )
3. Not Thru With You
( Jeff Jones / Tim Raynor-Allwein )
4. Gonna Get It
( Jeff Jones / Tim Raynor-Allwein )
5. All Around the World
( Jeff Jones)
6. The Next One
( Jeff Jones / Tim Raynor-Allwein )
7. Summertime Girls
( Jeff Jones / Tim Raynor- Allwein )
8. Too Bad
( Jeff Jones / Tim Raynor-Allwein )
9. Really in Love
( Jeff Jones / Tim Raynor -Allwein )
10. Relating
( Jeff Jones / Tim Raynor-Allwein )
11, Sinnin' on Saturday Night
( Jeff Jones / Tim Ranor-Allwein )
Price: $12.99 USD (includes worldwide shipping and handling)