Jeff Jones of St. Elmo's Fire Interviewed on Rock Rage Radio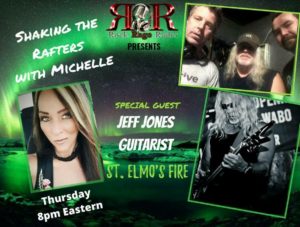 St. Elmo's Fire founding member and  guitarist Jeff Jones appeared on the Shaking The Rafters with Michelle radio show on November 11th 2017. The wide ranging interview covered everything from shopping at Wal-Mart to the band's new album EVIL NEVER SLEEPS.
The album is scheduled for release in March 2018 on Pure Steel Records.
Pages: