JEFF JONES- Rockhard '86-'96 review in Bearockr "..a MUST for rock and roll fanatics!.."
We recently got to hear guitarist, songwriter and producer Jeff Jones' album 'RockHard', featuring his music with the band 'St. Elmos', as well other acts he was associated with. Jeff was a founding member of St. Elmos Fire and was also in Vamp le Stat from 1993- 1995 during the "Bloodline" era.
The album began with a glam rock headbanging soundtrack in 'Gonna get wild', and well, its actually true to its title too ! Next up was a classic rock piece, 'Madame blue' which had a nice change in the vocals and great harmonization.
'Mississippi wine' was filled with  clean guitaring, a nice pattern and a great acoustic sound, that are perfectly well recorded. The guitar riff and vocals in the track 'Caught in the heartbreak' were so wonderful in bringing forth the emotions in the song. Jeff's voice showed the expressions and the drums showed the power. The bass maintained the balance in between very well. Excellent coordination !
'Don't Drop it' had a different beginning from the rest, and it was actually a welcome change that even I was expecting to see at some point in the album, though the drums didn't amuse me much.
Well yeah, Guitar players must have heard of 'Overdrive' in their pedals, but how about 'Powerdrive' ? That's what the next track is called! An awesome hard Riff, creative guitaring. excellent vocals and a powerful chorus sums up this track. Moving on to 'Hot n' love', technically speaking, this one's a strong soundtrack with a very power packed rhythm section.
'Into the night' was kinda my favorite in terms of the intros in other songs of the album.
'Warning from the sky' had an even more rocking intro, but later on, it lost the charm, but the chorus vocals turned out to be amazing.
The album then finally got off to a rock n roll finish with 'Breaking Out', loaded with a very impressive, strong, and speedy intro and amazing drum rolls. I bet you'll be rewinding the intro a lot many times in this one!
Well, Overall, this album is a MUST for a Rock n Roll fanatic. Power packed riffs, headbanging rhythm, and amazing vocals: What else were you craving for, eh ?
see also Spaced, Keester, St. Elmo's Fire, Vamp le Stat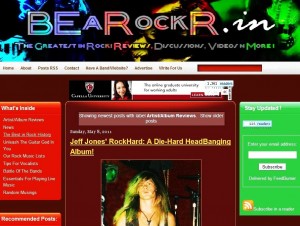 Pages: