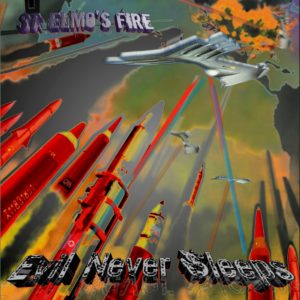 "Evil Never Sleeps" is the 5th studio album from St. Elmo's Fire. The band, based in California, has not released a record since 1992. They disbanded the same year. But in 2015 Elmo emerged again due to the overwhelming response to the worldwide re-release of their previous four records on Pure Steel Records.
St. Elmo's Fire is led by founding member Jeff Jones. The guitarist, producer and songwriter formed the band as a teenager in the late '70s. Elmo later went on to sign several recording contracts which resulted in the release of a highly collectable 45 single "Really in Love" /bw "Too Bad" (1982), and the full length albums "St. Elmo's Fire" (1986), "Warning From The Sky" (1988). "Powerdrive" (1990), and "Desperate Years" (1992).
St. Elmo's Fire rises again stronger and better than ever with three new members. Vocalist and frontman Kevin Brady, bassist Chris Stringari, and drummer Tom Frost . All three add a whole new dimension to "EVIL NEVER SLEEPS" and make St. Elmo's Fire a force to be reckoned with once again.
"EVIL NEVER SLEEPS' is a modern day look at a force as old as mankind.